Weekly top two sellers in U.S. Mint silver coin products were the 2012 Silver Proof Set and the 2012-W Proof Silver Eagle Coin. They easily won collectors' attention, although their weekly sales were not quite as strong as the previous week.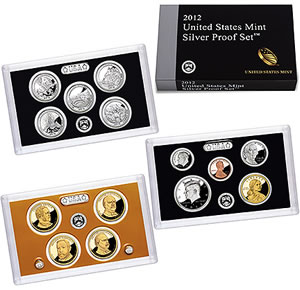 The 2012 Silver Proof Set led U.S. Mint weekly silver coin product sales
Demand for the 2012 Silver Proof Set has been high ever since its sales started on June 4, but sales eased from a gain of 18,090 in the last round to 15,010 in this one. Over a quarter million have already sold, and this latest jump bumped the total up to 251,775.
Individual 2012-W Proof Silver Eagle coins were one of the leaders in the prior report after rising by 19,105. In this report, they took second place as 13,709 were grabbed by collectors. Only 10,735 more orders are needed to hit the major milestone of 500K in sales. The latest total rang in at 489,265.
Next on the best sellers list, but at a pace that could not compare with the two just mentioned, were the Star-Spangled Banner Bicentennial Silver Set and the individual proof Star-Spangled Banner Silver Dollar. They rose by 3,454 and 2,514 respectively.
In the bullion market, annual sales of the bullion Silver Eagle hit 18,147,000. Demand for a few of the available five ounce America the Beautiful Silver Bullion Coins rose as well. Their combined weekly sales were 2,300. Broken out, the Chaco Culture coin leaped by 1,800, the El Yunque coin climbed by 400, and the Olympic coin suddenly advanced another 100 after several static weeks.